It seems like every week, a new company announces and retracts their work-from-home policies, adding confusion and uncertainty to the future of workplace expectations. In fact, 43 percent of large organizations we surveyed still do not know what they are going to do about their real estate footprint. Amid this uncertainty, employees are demanding greater work-life flexibility and clearer policies around where and when they work. Tight labor markets and changing worker priorities have led to a "Great Resignation" in many parts of the economy, with 41 percent of workers thinking about resigning within the next yearU.S. Bureau of Labor Statistics: Job openings levels and rates by industry and region, seasonally adjusted. While there are many factors driving these trends, leading organizations have begun considering how their workplaces and policies can provide better support to their employees.
Our People + Places Advisory practice has been helping organizations adapt to this new context, and we believe the real question to consider is not, "should we return to the office?" but instead, "how can we achieve the right mix of time in and out of the office while optimizing employee performance and wellbeing." To help think through this question, we developed three personas that embody the current challenges businesses are facing and the insights that are enabling them to thrive in this brave new world.
Karl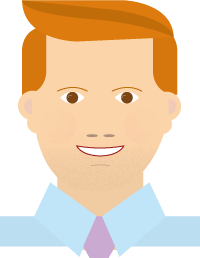 Karl is a regional real estate manager with ten office locations under his purview. He is based in a smaller regional office close to his home and travels between office locations frequently.
Karl lives in a rural community with a longer driving commute to the city via major freeways.
As a real estate manager, my approach to work has been flipped upside down. My organization's success operating remotely for nearly two years has led us to rethink the size of our real estate footprint and consider encouraging part-time remote work on a permanent basis.
I am concerned that too much flexibility will complicate our leasing plans and make it nearly impossible to plan for future workspace needs, but I am also optimistic about saving some money on real estate. The work-from-home policy IBM rolled out inspired me—they enabled 20 percent of their global workforce (75,000 people) to work remotely and saved an estimated $50millionStrategyzer: 4 Innovative Business Pivots In The Age Of The Pandemic. But that is IBM—I would like to find a strategy that works for us!
Going from numbers-driven to purpose-driven spaces
A major challenge for real estate managers is not flexible work models, but rather the overreliance on occupancy-oriented space planning metrics. Leading organizations have recognized that high occupancy does not necessarily mean high performance, and many are pivoting away from occupancy-oriented metrics—such as square foot or square meter per employee—to measures that more directly link employee performance to the spaces they use.
Instead of calculating space needs as a function of the number of employees in the office, these organizations are identifying which spaces enable their employees to perform at the top of their game and investing in these supportive environments. They are also finding that for some work activities and worker types, the highest-performing spaces may well be at home.
For example, when working with a media company in our Northeast region, we found that some work tasks for designers and storytellers were best supported by comfortable, collaborative, and interactive spaces, while other technical workers and leaders performed best in enclosed, equipped, and constructive environments. AECOM also engaged with National Grid to observe performance in three ways: capturing data on creativity, grammatical reasoning, and cognitive flexibility based on the nature of their work and the spaces that enable those characteristics. The results of the study at National Grid revealed that comfort and satisfaction with the work environment in redesigned offices was 8 percent higher than in the offices that had not been redesigned, and this was found to be positively associated with perceptions of team performance. Moreover, the results demonstrated that Cognitive Performance was 8 percent better in the redesigned offices.
Heather
Heather is a marketing manager at an agency in the downtown area of her city. She manages a team of ten people who function in a partly in-office and partly remote work model.
Heather lives in a third-ring suburb of the city. She commutes with her personal vehicle and sometimes takes light rail to save money on parking.
My team and I have embraced the flexibility of working mainly from home. So far, it has not affected our productivity—in fact, we are more productive than we have ever been. We are commuting less and have more opportunity to take care of personal needs and spend time with our families and friends, even if we do not always take advantage of it.
At the same time, the boundaries between work and life have steadily disappeared. Many of us are working more than ever and finding it hard to "turn off." Most of us miss aspects of our office, such as the creative ideation spaces, comfortable workstations, and opportunities to collaborate (or just chat!) with our colleagues. Some of my teammates have found that their homes are difficult places to work, often due to a lack of privacy or a lack of dedicated space.
If we do not maintain some level of flexibility and consider people's wellbeing across work settings—whether at home or in the office—I worry that my team's performance will suffer and we might lose them.
Putting wellness into the performance equation
The pros and cons of both in-person and remote work models are becoming more apparent, but simply shifting to a "hybrid" (i.e., part remote, part in-person) approach is not enough to alleviate the downsides of each model to employee health and wellbeing. Instead, forward-thinking organizations are taking a more holistic approach to wellness that spans home, workplace, and commute and aligns with their ESG priorities.
We are working with the U.S. Department of State to comprehensively evaluate performance across it's embassies and consulates, considering factors like environmental quality, social interaction, cultural inclusion, and overall comfort that affect the wellbeing of American diplomats. We are also engaging with a range of employers—from pharmaceutical and financial firms to federal and city agencies—to design work settings centered on employee experience. This has involved not only building out better equipped offices and home workstations, but also developing change management strategies that help employees maximize their wellness across settings and avoid the pitfalls of our modern ecosystem of work.
Jim
Jim is an operations specialist who supports facilities at an urban nonprofit. He works on-site most days and is considered essential to keeping the facilities operating day-to-day.
Jim lives in a first-ring suburb near the city and commutes via public transit on busses and trains.
I am considered an essential worker, so I have not worked from home in the same way as many of my colleagues. But I have found it challenging to adjust to the reduced public transportation schedules and access the internet when I am at home. My city's transit system has cut service routes and frequency, which is especially difficult for me as I often work odd times of the day. I need to walk much further to catch the bus now and if I miss it, I have to wait for nearly an hour for the next one. I also do not have a great internet connection at home, so when I do work from home, videoconferencing has been a real challenge.
I love this job but wish there were a way to make it easier to commute and get online remotely. My family wants me to find something closer to home, too—something that will give me more time with them and put less stress on all of us.
Participating in the infrastructure conversation
All organizations rely on infrastructure systems to support their missions, and the gaps in these systems have become ever more apparent in recent years. While few will be able to invest directly, organizations can be powerful advocates for improving infrastructure and aligning public investments to better support their employees and their communities. This starts with first understanding how employees use these systems through data collection and journey mapping, and then participating in civic conversations about current operations and future investments.
Organizations can also develop strategies to improve their own first-mile/last-mile connections to existing transportation networks, such as through employee ridesharing, shuttle services, and active transport options (e.g., share bikes and scooters). They can help bridge the digital divide by subsidizing high-speed internet access or providing secure WiFi hotspots for workers with limited broadband access.
Our transportation team has been working with the Connecticut Department of Transportation since 2011 to establish a comprehensive commuter program, growing the regional rideshare database from 15,000 to over 50,000 members across the state. The program included a website featuring live chat, commuter resource tools, a custom commute planner, a transit finder, and a travel cost calculator to increase visibility and accessibility to multiple modes of transportation to and from the office. As companies look for new solutions in regional hubs, co-working spaces, or selective real estate strategies, understanding how, when, and why people commute becomes ever more critical.
Putting it into action
To remain competitive amid the Great Resignation and resilient to persistent uncertainty, leading organizations are recalibrating their investment approach toward an expanded conception of the "workplace"—one that recognizes that work spans the office, home, and all of the connections in between. Central to this approach is heightening employee experience and wellbeing across contexts, both as an end in itself and a means to achieving higher, more resilient organizational performance.
The following steps can help organizations better thrive in this new ecosystem of work:
Understand
Consult with employees and team leaders to determine which spaces they need to perform their work most effectively. Pay close attention to the diverse array of needs, ranging from baseline workplace functionality to individual work styles and neurodiversity. Consider whether these needs are best provided in the workplace, at home, or a combination of both.
Identify the benefits and pain points of their current work settings and weigh the competitive advantages of both in-person and remote environments from the standpoint of wellbeing. Be sure to consider not just the places of work, but also the underlying infrastructure that supports them—infrastructural, technological, and cultural.
Develop
Plan workspaces based on how well they enable employees to perform, identifying opportunities to better outfit existing spaces, shed excess or low-performing spaces, and rebalance real estate footprints.
Design targeted investments, programs, and policies that heighten the advantages and mitigate the unhealthy aspects of in-person and remote environments. Consider investments in both "hard" factors such as physical design, technology, and equipment, as well as "soft" factors like organizational policy and culture.
Implement
Align investments in place, people, technology, and operations to optimize an organization's approach to work. Actively manage change by involving employees in the transition and developing policies, behavioral etiquettes, and informational materials that help them take full advantage of the new model. Measure the performance of your approach using an expanded set of criteria that defines success from the perspectives of both organizational effectiveness and employee experience.
Consider the various ways to engage and communicate with employees—what works best for different team dynamics and workstyles, and what messaging will drive lasting change. Implementing a successful and engaging plan can prove to have compounding benefits on employee wellbeing and workplace culture over time, and it can equip organizations to be resilient toward future changes in the world of work, home, and everywhere in between.